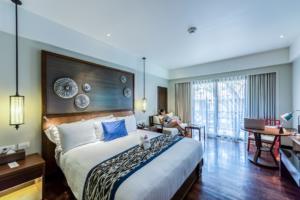 One of the great things about remodeling a bedroom is that you can make a strong design statement without making expensive, structural changes. With fairly little in the way of electronics or heavy furniture, bedrooms are relatively simple to redo and pretty difficult to get wrong. That's perfect when you're a do-it-yourselfer, because DIY is all about saving money and making a big impact without a huge investment. The bedroom is one place where a light decorating touch and doing more with less can work well.
Establish your palette
An effective bedroom remodel often begins with a new coat of paint, whether you're changing to a different color or simply freshening up the current color. In the bedroom, the shade you choose sets the tone for your entire decor palette. When looking at colors, it's important to maintain a sleep space that's restful and sleep-conducive, so consider a soft, soothing pastel shade or go with a coat of white or off-white, something that simplifies the rest of your decorating. It should act as a backdrop for your overall aesthetic vision.
Flooring
Whether you're shooting for a warm and comfy feel or would prefer the classic look of hardwood, few features do more to determine a bedroom's personality than its flooring. Hardwood is a great option if you or a loved one suffer from allergies or tend to respond negatively to carpeting fibers and the allergens that live in your carpeting.
If you're unfamiliar with installing hardwood flooring, you'll need to do some studying and take
your time to get it right, because it involves prepping the entire area, prepping the subfloor, laying down a vapor barrier, installing the flooring itself, and finishing the trim and fill. There's definitely more upkeep with hardwood, which can be scratched and chipped easily. But with proper maintenance, hardwood can last years longer than carpeting, and is better for resale.

Window treatments

Flooring may endow a bedroom with its personality, but it's the window treatments that add design continuity and pull the decor together. The eye is drawn to curtains or shades because bedrooms tend to be smaller than other rooms, which means window treatments predominate. If you're trying to save money by doing it all yourself, be aware that this is one feature you can spend a lot of money on pretty easily. The cost of blinds, shades, or curtains can add up quickly, so keep an open mind for alternatives. Many designers recommend white panel curtains, which offer a clean simplicity that goes with just about any style. Best of all, they're inexpensive.
Lighting
Pot lights and strong overhead lighting tend to be a bit too much in the bedroom, where you'd want the option of switching to softer light. From a design standpoint, floor and table lamps work well and add an appealing design element to your decor. Lamps are not only aesthetically pleasing, they're a very cost-effective way to put your personal stamp on the room. If you do install overhead lighting, add a dimmer switch to eliminate glare, which can be done for as little as $60.
Mattress
Of course, the most cost-effective and visually stunning remodel is of little use in your bedroom if you're unable to sleep well. Remember that your mattress is one of the most important factors when it comes to getting a restful night's sleep, so consider purchasing a new one if yours is at least seven years old. Mattresses degrade markedly over time, becoming uneven and lumpy, so consider the value of making such an investment part of your remodel. Consider also budgeting in some new linens for your new mattress, especially if you opt for a smaller or larger size.
The bedroom is one part of the house where you can make a strong design statement without draining your budget. Lighting, flooring, and windows can all be upgraded quite affordably and still look terrific together. All in all, it's a fairly easy space to pull together on your own.
Courtesy of Pixabay.com.
Original Post: Big Impact, Minimal Cost: Tips for a DIY Bedroom Remodel