HOME Consortium Down Payment Assistance

The HOME Consortium home ownership assistance program helps families afford a home of their own by providing deferred loans. The DOWN PAYMENT ASSISTANCE LOAN (DPA)program provides eligible home buyers with a forgivable loan of up to $5,000 to be used for down payment and/or closing costs. Funds are for buyers purchasing in Waukesha, Jefferson, Washington or Ozaukee counties.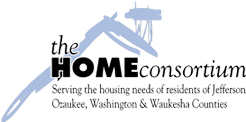 The program is funded by the HOME Consortium's annual allocation of funds provided through the U.S. Department of Housing and Urban Development. Eligible homebuyers must reserve funds through a participating lender of their choice who will receive a loan commitment from the HOME Consortium program administrator.
DPA loan is provided as a five-year forgivable loan, meaning that as long as the property remains the borrower's primary residence for five years the loan is forgiven and no repayment is due. If the property is sold, title is transferred, ceases to be the primary residence, or there is a cash out refinance a partial repayment of the loan would be required. The loan is forgiven 20% for each full year. The HOME Consortium down payment forgivable loan may be combined with other down payment assistance programs available through the state, Federal Home Loan Bank, HUD or other personal or non-personal sources.
For additional information on maximum purchase price limits and eligibility please visit their site at:
http://www.homeconsortium.info/home/home-ownership-assistance/
Need help finding the perfect home? We would love to help! Take a moment to fill out the home buyer questionnaire below: